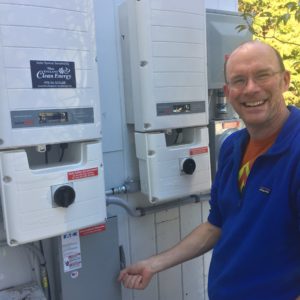 The author turning on our solar panels in December 2016
About the author
David Green holds a BA (honours) in physics from Oxford University and an MBA from Harvard Business School (with distinction). After HBS, he worked for four years as a strategy consultant advising global companies and Nelson Mandela's new government of South Africa.
 After returning to the U.S., he founded, and was CEO of, two biotechnology companies: Harvard Bioscience™, which makes scientific instruments used in biopharmaceutical research and BioStage™, which makes a stem-cell therapy to treat, and hopefully cure, esophageal cancer. He took both companies public. He is an inventor on U.S. patent number 10,449,026 B2 for tissue engineering.
 In 2017, he wrote Zero Carbon® Home and in 2018, Zero Carbon® Pool. In 2018, he founded Zero Carbon®LLC to consult to homeowners who had asked him to help them go zero. In 2019, he launched a T-shirt with a lifetime carbon footprint of zero. He authored and maintains the website www.greenzerocarbonhome.com where there is additional information about going zero, including a webinar version of Zero Carbon® Home.
 His work on zero carbon has appeared on global news media outlets including ABC, NBC, CBS and Fox and has appeared on the front cover of Green Energy Times and in Renewable Energy World, as well as the websites of the U.S. Department of Energy, Zero Energy Project, Cool Effects and the Green Home Institute.
 He lives and works in Dover, MA and can be reached at: email David Green
If you would like to receive occasional emails from me, please fill out the form below: