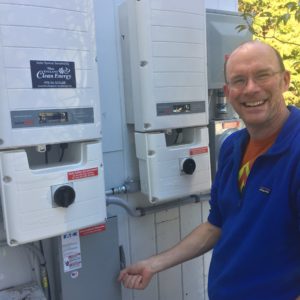 The author turning on our solar panels in December 2016
David Green holds a degree in physics from Oxford University (with honors) and an MBA from Harvard Business School (with distinction). After HBS he worked for four years as a strategy consultant advising global companies and Nelson Mandela's new government of South Africa. After returning to the U.S. and marrying his American sweetheart, he returned to his roots in science-based businesses.
He founded, and was CEO of, two biotechnology companies. The first was Harvard Bioscience, which makes scientific instruments used in biopharmaceutical research. The second was BioStage, which makes a stem-cell therapy to treat, and hopefully cure, esophageal cancer. He took both companies public and has raised over $100m in private and public capital.
After being injured in a road accident in the summer of 2014 he resigned from being CEO of BioStage. While at home recovering from the accident, he did the research on getting his home to a zero-carbon footprint. Having "gone zero" and having saved thousands of dollars a year, he now wants to help as many people as possible to do the same.
He has released his second book, Zero Carbon® Pool, how to cut your swimming pool's carbon emissions, heating bill and electricity bill to zero. You can order it by clicking here
He is the founder of Zero Carbon® LLC a company dedicated to saving the world from global warming. Zero Carbon® LLC provides consulting services to homeowners wanting to make money by cutting their carbon footprint to zero. Zero Carbon® LLC also provides products with a lifetime carbon footprint of zero. Its first product is a T-shirt made from 100% organic cotton grown and sewn in the U.S.A. You can see it by clicking  here
A 3 minute interview of David Green by NBC Boston anchor Joy Lim Nakrin can be seen by clicking here.