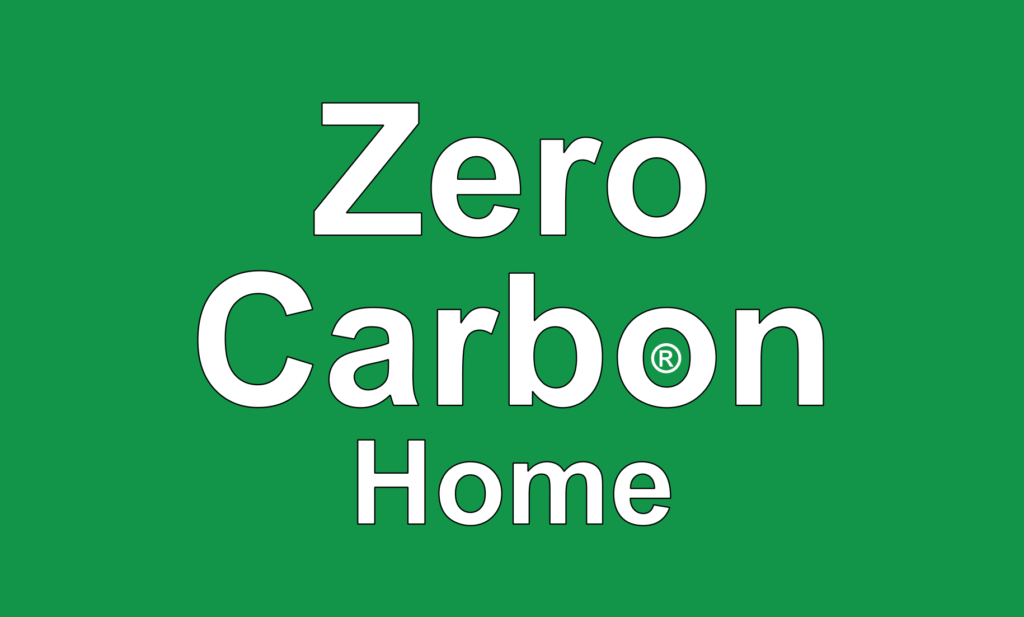 Zero Carbon – Zero Bills
To Stop Climate Change – Start at Home
Zero carbon homes and buildings save money, improve health and substantially cut emissions of carbon dioxide. I have cut the carbon dioxide emissions of my house (and swimming pool) to zero, I pay nothing for heating or electricity and our indoor air is clean and fresh. By following my "Fab Four" recipe, which is summarized below, you can do it too and help us get to net-zero carbon by 2050.
To see a 3-minute interview of David Green by NBC Boston anchor Joy Lim Nakrin, please click here: TV Interview
To see a 20-minute TED talk at Harvard Business School, please click here: TED Talk
David Green is a scientist by training (BA in physics from Oxford University) and has spent his career in business (MBA from HBS) so we only did things to our house that made both energy sense and financial sense. I found that a lot of the conventional wisdom is wrong. What we did not do is as important as what we did do.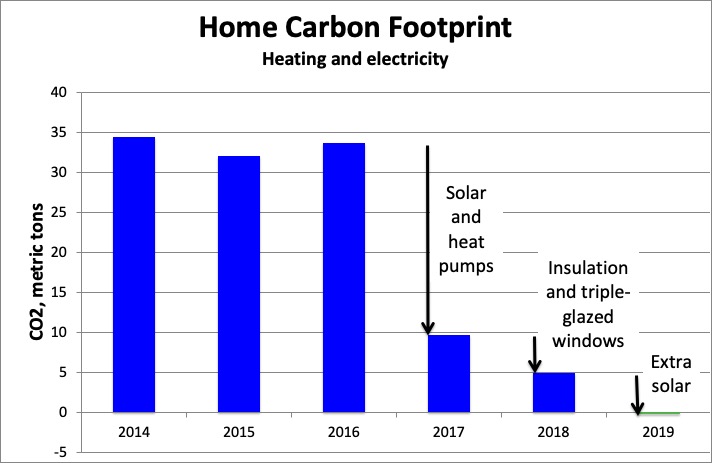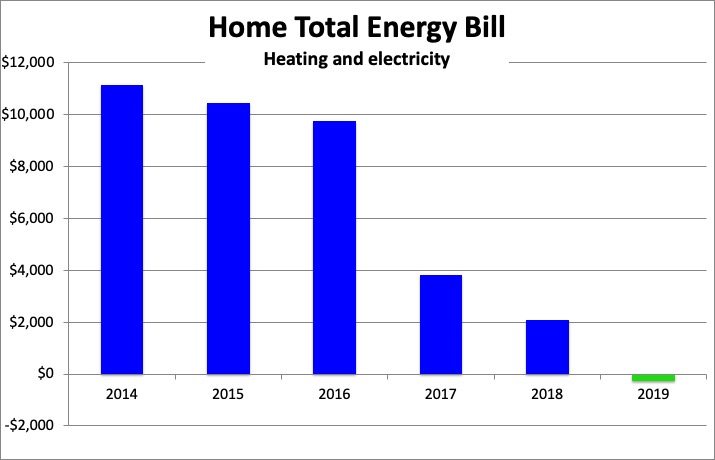 My next free webinar (all attendees get a free copy of my highly-acclaimed book, Zero Carbon Home) will be held on Zoom on Wednesday March 8th at 7pm ET. You can register here:
https://www.eventbrite.com/e/zero-carbon-zero-bills-by-david-green-tickets-516858988147
This webinar is being hosted by Westford Climate Action.
Reviews of the webinar included, "Minute-for-minute, point-for-point, one of the best webinars I have ever attended. Thank you!", "David is a true inspiration and asset to our community. He inspired us to get solar panels and a new front door", "This is like a masterclass in ZeroCarbon", "Thank you soooo much for the sensible advice and your fabulous resources!!" and, although this next comment is a little flowery, it does express the sentiment of many other comments, "Your contribution to Greening America is great and will probably help our survival as a species a bit longer than expected".
74% of the attendees of the webinar say that in the next 12 months they intend to add at least one of the Fab Four. There are people who have attended this webinar four times.
I do all my webinars for free and every attendee gets my book for free too. I do this to try to help save the planet from global warming.  If you are part of a local sustainability, environmental or energy conservation group and would like to host a webinar please contact me at: email David Green  to arrange it. I can take care of all the arrangements for Zoom hosting and registration so all you need to have is an just add the audience!
This webinar is not a lecture and I do not tell you what to do. Instead I show you what we did that worked, and mention quite a few things we did not do (like geothermal, solar hot-water panels, creating a super-tight building envelope (fancy speak for sealing all the drafts) and adding insulation to your exterior walls) because they made energy sense but did not make financial sense. The live Q&A period always takes longer than my presentation and I stay on the call until the last person's question gets answered.  On this site there are now written answers to  over 300 questions that were asked by people like you on one of these webinars. Click here: Q&A
Our house is a zero-carbon building. We have achieved net-zero carbon and done so profitably. We achieved this in 2019, a long time before the 2050 goal of "net-zero carbon". We did it using off the shelf equipment installed by local contractors. It wasn't even that hard to do. 
Our house has a zero-carbon footprint (meaning it has zero emissions of carbon dioxide)  and we pay nothing for electricity and heating. We did this by adding: heat pumps, insulation, triple-glazed windows and solar panels (the "Fab Four"). By installing the Fab Four we are saving so much money on heating and electricity bills that our investments will pay for themselves in about six years. Our return on investment is about 15%. That's 15% after tax and indexed for inflation. Sure beats my 401k!
What we did not do is: geothermal, solar hot-water panels, adding wall insulation and getting a super-tight building envelope (fancy speak for sealing all the drafts). Yet these are all common conventional wisdom in the "green building" or "net zero" community. They all make energy sense but they make no financial sense, i.e., the lost money.
I used to think that the "indexed for inflation" part was just a nice to have. But since the price of heating oil is up 50% in a year and natural gas prices have almost doubled (and electricity prices are going up because they are driven by the price of natural gas) this has turned out to be really important. My bills for heating and electricity in 2021 were the same as they were in 2020, they netted to zero. Though the prices of heating oil, natural gas and electricity are now very high, the prices of solar panels continue to fall. Buying solar panels in 2022 is better value for money (and makes a better return on investment) than it did when I bought mine. I now use my solar panels to charge my Tesla too which means my budget is not even being squeezed by the high price of gasoline.
In addition to the investment returns, according to a large body of academic research, our house price has increased by between 8% and 14%. Even the low-end estimate greatly exceeds what we invested in the Fab Four. Hence you no longer have to wait until the savings pay for the investment in the equipment, you can get your money back as soon as you sell your house. In fact, adding the Fab Four is now a good way to prepare your house for sale. 
On this site there are now written answers to  over 300 questions that were asked by people like you on one of my webinars. These include topics like: using heat pumps with hot-water radiator systems; dampness, moisture, humidity and rotting cathedral ceilings; ducted and ductless heat pumps; the carbon footprint of natural gas, heating oil and propane; cutting carbon emissions from swimming pools; the return on investment from batteries like the Tesla Powerwall; net metering for solar panels and why adding insulation to walls is rarely a good idea. Click here: Q&A
A zero-carbon-footprint house (or just zero-carbon house) is also known as a net-zero-energy house, a net-zero-carbon house or a carbon-neutral house. It is essentially the same as other similar descriptions such as: a carbon free house, zero emissions house, and carbon zero home. There is no universally accepted definition! Over the course of a year a net-zero energy house generates no net emissions of carbon dioxide. Net-zero energy houses are houses that use very little energy from electricity or heating fuel like natural gas or heating oil. But, because even a single light bulb uses energy, they are do not use zero energy. They can use net-zero energy after subtracting the zero-carbon energy produced on site, such as from solar panels.
I am a physicist by training (I have an honors degree in physics from Oxford University), and an entrepreneur by trade, (I have an MBA, with distinction, from Harvard Business School). In my career I founded, and was CEO of, two biotechnology companies both of which I took public. In 2017, I published Zero Carbon® Home (there was a major update in 2020 and that is the current edition) and in 2018, I published Zero Carbon® Pool. The physicist in me understands things like low-E coatings on triple-glazed windows and the MBA in me knows how to analyze financial investments. I combined both to ensure that we only did things that made both energy sense and financial sense.
I do not work for or get paid by any manufacturer or installer of equipment. I am retired after a 20-year career in biotech. All my advice is free of these conflicts of interest that permeate the industry. Well, I was retired, in November 2021 I went back to work as  CEO of Biostage, the biotech company I founded that probably has a cure for esophageal cancer. Biostage is a public company (ticker symbol BSTG) and if you are interested in investing to help cure esophageal cancer, if you know someone who has esophageal cancer who may be interested in participating in a clinical trial or you are a doctor who treats patients with esophageal cancer, please email me at dgreen@biostage.com
I have written three books on how to get to zero carbon, zero bills.  You can get my first book, Zero Carbon® Home, for free by attending my free webinar. My second book, Zero Carbon® Pool is not available for free but you can buy it from this website. My third book, the Special COVID19 Stuck at Home Edition of Zero Carbon® Home you can get for free by entering the code COVID19 at checkout. All attendees at my highly-acclaimed webinars get a free copy of the e-book version (for iPad/Nook or Kindle) of my equally highly-acclaimed book Zero Carbon® Home. When Paul Hawken, the author of "Drawdown: The Most Comprehensive Plan Ever Proposed to Reverse Global Warming" reviewed the book he said, "Your book is terrific." Bill McKibben has also endorsed the book as have many people I have helped to cut their bills and carbon emissions.
If you run a sustainability organization and would  like to host a webinar, or TED Talk, please contact me at dgreen@greenzerocarbon.com
You can see a recording of one of my earlier webinars on YouTube here: https://youtu.be/9ee-rcrvlM4
You can see a TED Talk recording here: TED Talk
If you are looking for a T-shirt with a lifetime carbon footprint of zero, (which I have created in order to try to reduce the XXXL carbon footprint of the clothing industry) please click here: Zero Carbon® T-shirt. The T-shirt is made from 100% organic cotton grown grown in the USA.  It is also sewn in the USA and uses no bleach or dyes. It costs $19.99 and is only available in the USA.
If you are looking for how to make money by cutting the carbon footprint of your swimming  pool to zero, (which I have also done – it was quicker, cheaper and made a higher return on investment to go zero on my pool than on my house) please click here: Zero Carbon® swimming pool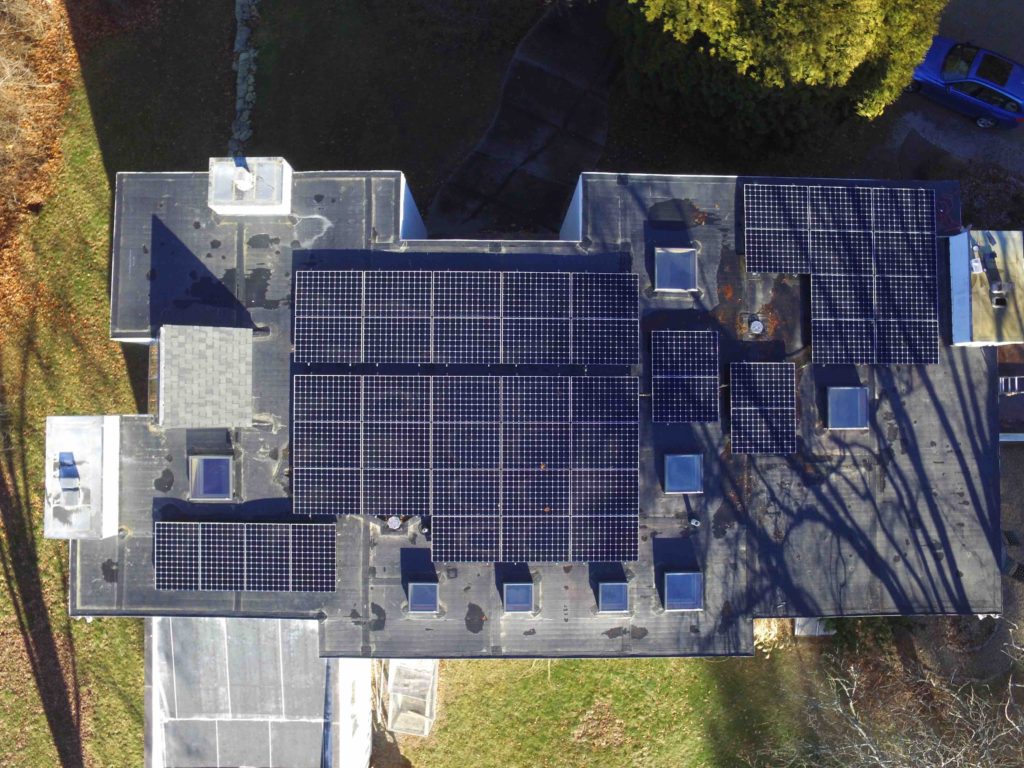 Getting to a zero-carbon / net-zero home.
David Green's "Fab Four" recipe for "making green by going green" i.e., making money by cutting your house's carbon footprint to zero is:
install 12″ of insulation in your attic and in the ceiling of your basement
replace your AC units with heat pumps
when you replace your windows, replace them with triple-glazed windows not double-glazed ones, or add low cost "fit-from-the-inside" window inserts
install solar panels on your roof
To find out more about the fab four please click here:  Fab four summary.
To see how much money we saved and how much carbon dioxide we cut with each one of the fab four, please click here: How much CO2 did we cut?
To see a free recorded version of David Green's 45 minute webinar presentation "Zero Carbon® , Zero Bills" (followed by 45 minutes of Q&A), hosted on YouTube, that covers the fab four recipe, please click here: ZCZB webinar
If the idea of watching a video for 90 minutes (even if it will probably save you thousands of dollars a year) makes you want to leave this web site then here are three shorter versions:
To download a pdf file of the slides for the webinar (also for free), please click here: Webinar slides July 2021 – Compressed This pdf file is compressed to 3.2MB to make it easy to download, so the pictures are a little grainy.
I have also broken the webinar into 6 bite-sized chunks, all hosted on YouTube, and all available for free:
And here is the link to a TED Talk version of the webinar that I did for Harvard Business School: TED Talk
To read the written answers to over 300 questions that have been asked on these webinars (this is a goldmine of useful information about cutting your carbon footprint and other related topics like humidity control and ventilation), and is also available for free, please click here: Q&A from webinars
If you are wondering how I can do all this stuff for free it is because I am retired from my career in biotech. I do this to help people to cut their carbon emissions, combat climate change and preserve the planet for our children.
To easily calculate the carbon footprint of your house, please click here: Carbon footprint calculator.
To read about the author, David Green who is both a bit of a techie geek and quite financially nerdy, please click here: About the author
To order a copy of David Green's books, Zero Carbon® Home and  Zero Carbon® Pool, please click here: Order the book
These are unsolicited comments I have received on the book:
"Your book is terrific." Paul Hawken., San Francisco, California. Author of "Drawdown" and one of the world's leading environmentalists.
"I thought the book was straightforward and clear" B. Mc., Middlebury, Vermont. Leader of 350.org and one of the world's leading environmentalists.
"Wow that was an awesome book! Super informative on all aspects of the process to get to net zero. I'm very glad I read your book it is such a passion of mine I've been wanting to do this for years, you really inspired me to make it happen. Thank you." D.S., Mastic, New York. Homeowner who is making a 46% per year return on investment by cutting his carbon footprint 38%.
"Absolutely loved the book. Very readable for the non-scientist. Fun, entertaining, quite educational for the scientist." A.N., Weston, Massachusetts. Homeowner who is going zero on his house.
"Thank you so much for your effort and attention here. I feels so fortunate to have met you!" K.A., Arlington, Massachusetts. Homeowner who is going zero on her house.
"I'm very impressed the way you explained the technical terms, the Fab Four and your thoughts on them, leading you to your choice. I was also very surprised when reading the section about old architectural solutions, like verandas, pergolas, deciduous plants, etc. being very often forgotten. Really good stuff." M.B., London, U.K. Homeowner who is going zero on his house.
David Green's work on zero carbon houses has been publicized on global news media outlets including ABC, NBC, CBS and Fox and has appeared on the front cover of Green Energy Times,  in the Boston Herald and in Renewable Energy World, as well as the websites of the U.S. Department of Energy, Zero Energy Project, Cool Effects and the Green Home Institute.
In addition to my work on renovations to zero carbon, I have recently started working on creating new homes with zero-carbon footprints. I have developed designs that are: zero carbon, zero bills, healthy and comfortable to live in. These homes have the lowest lifetime cost of ownership. Lifetime cost of ownership means the combined cost of the mortgage (including the addition cost of adding the fab 4), heating bill, electric bill and insurance. My designs can save a homeowner about $3,000 a year compared to a standard "code-built" house that sells for $450,000. Homeowners would probably pay $60,000 more for such a house just because of the zero heating and electric bills. Other benefits are that: the air inside is healthier (with less chance of the kids getting asthma); the house has less risk of catching fire; and the house emits no carbon dioxide. I would both certify that these houses have a zero-carbon footprint and brand them Zero Carbon®. If you are a developer, architect  or builder would would like to collaborate to build these houses, please contact me at: email David Green 
To read an explanation of energy terms used in the books (don't worry, it is precise but in a friendly way), please click here:  Energy terms explained
To read an explanation of finance terms used in the books (again, precise but in a friendly way), please click here: Finance terms explained
To read an explanation of zero-carbon house terms, such as net-zero energy, PassivHaus, LEED Certification, Zero-Energy Ready Home (ZERH), Home Energy Rating System (HERS) and my proposed new term, Greenness, please click here: Net-Zero Energy terms explained
It is pure coincidence, or perhaps destiny, that my family name is Green. I got it from my father. I am not making it up, just like I am not making up anything else in this website, book or webinar.
You can follow me on Twitter at #GreenZeroCarbon by clicking here:
My blog contains questions asked by people who have attended a webinar and my answers. It is searchable and is a great resource if you have a question. If you have the question, it is quite likely that someone else has had that question too. You can read it, or search it, by clicking here: blog
If you would like to receive occasional emails from me with new material I have written please fill out this form:
The mark Zero Carbon® is a trademark of Zero Carbon® LLC registered with the United States Patent and Trademark Office with numbers 5,730,207 and 5,944,678. Use without the written permission of Zero Carbon® LLC may be a violation of law. In addition, the trademark has been recorded with the U.S. Customs and Border Patrol to prevent the importation of articles bearing unlicensed versions of the trademark. For permission requests contact: email David Green
The books, website (including blog posts), website downloads, webinars and other form of communication (including the author's answers to people's questions in any form, written or oral) refer to the author's opinions and experience with energy efficiency improvements, investing, tax, finance and regulations but neither the author, nor Zero Carbon® LLC is giving investment, tax, financial or legal advice, nor offering any warranty or guarantee of results.
Copyright © 2020 – 2023 David Green.  All rights reserved. No part of this publication, electronic or printed, may be reproduced, distributed, or transmitted in any form or by any means, including photocopying, recording, or other electronic or mechanical methods, without the prior written permission of the publisher, except in the case of brief quotations embodied in critical reviews and certain other noncommercial uses permitted by copyright law. All commercial use is prohibited. All photographs and illustrations are copyright © David Green, unless otherwise credited.